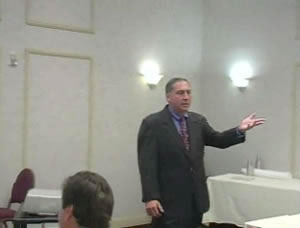 With his signature energetic and engaging style, Menard has delighted audiences in over 2,000 speeches in 47 states and 5 foreign countries. His business acumen stems from a career as an entrepreneur and executive. An expert in business strategies, he delivers energetic, entertaining, and highly participatory seminars, workshops, and keynotes on Negotiation, Purchasing, Sales, and Communication issues. His entertainment speeches are without equal in educational and humorous value.
Bio
Robert Menard's unique supply side philosophy as embodied in the corporate slogan:
Sell for a dollar, earn a dime; save the same dollar, earn ten dimes.
He helps companies make money by saving it. Since 1985, he has brought the buyer's perspective of negotiation to the table and epitomized the Total Cost of Ownership. Besides convention and corporate meetings, he provides training and consulting services to clients in the US and abroad.
Capsule
Veteran business pro of 35 years with extensive record achieving cost savings, consulting and training success in purchasing and negotiating for public and private clients, large and small, worldwide.
Professional Designations
Lifetime Certified Purchasing Professional (CPP)
Lifetime Certified Professional Purchasing Consultant (CPPC)
Strategic Partner to American Purchasing Society and recognition of frequent contributions to the profession
Member National Speakers Association (NSA) with almost two decades ads professional speaker and trainer
Member of the Year designation for 2008-2009 NSA, an award given to recognize service to the speaking profession and assistance to others
Entrepreneurial Experience
Chief Financial Officer at Golden Cost Trading Partners, Inc since 2007, a firm engaged in foreign trade with the Arab world
President of RobertMenard.com, a firm engaged in professional speaking specializing in purchasing and negotiation since 1994
Speeches Testimonial
CLICK HERE FOR VIDEO CLIPS